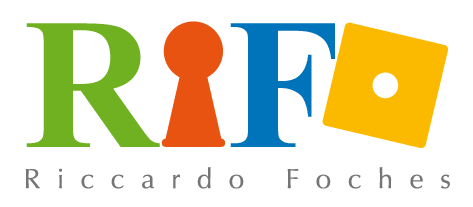 "you don't stop playing games when you get old,
you get old when you stop playing games"
Le leggende raccontano che il Salvanel, folletto tutto rosso dal bizzarro ciuffo, si diverte a fare scherzetti di ogni tipo alle persone che si avventurano nel bosco.
Chi per caso le calpesta, inevitabilmente si perde e girando e rigirando, si ritrova al punto di partenza.
Cosi' anche voi vi siete persi nel bosco!
Per tornare a casa dovrete usare al meglio tre diverse mosse per ricostruire un sentiero che vi faccia uscire dal bosco.
Ma il folletto sapra' anche darvi una mano, se lo incontrerete!

Salvanel e' un veloce gioco per 2-4 giocatori da 7 anni in su.
Tutte le informazioni, i regolamenti e le immagini le potete trovare nel sito di 'Post Scriptum', coproduttore del gioco assieme al TrentoFilmfestival.

Illustrazioni, grafica e personaggio sono opera di Andrea Foches, designer gia' noto per diversi lavori a tema etnografico.

Game Designed by: Riccardo Foches
Published by: Trento FilmFestival and
Year Published: 2008
English version can be found here .

Puoi acquistarlo richiedendolo a Trento FilmFestival, a Post Scriptum,
oppure online anche nel negozio Giochi In Scatola

---

The mountain is full of diamonds!
Players act as miners and dig long tunnels into the mountain.
Start digging your tunnel to take diamonds!
Tunnels with torch illuminate a longer portion of the digging. Dark tunnels stop you.
If you block other players' tunnels, they lose diamonds and will have to begin new tunnels...
...and you will gain more diamonds!!!
Keep in mind the type of tunnels found under the mountain, and you will reach the diamonds faster than others.
If you don't want to risk too much, you can choose a less risky path, but you will dig slowly...
The digging ends when there are no more diamonds. Who gained more diamonds? Whose is the longest tunnel? Whose is the darkest tunnel?

Game Designed by: Riccardo Foches
Published by: The Game Crafter
Year Published: 2009
Download the Diamond Cave Rules.

All detailed infos and online orders can be found here .
MagicCatalog


MagicCatalog is an android component that allows you to create native apps to access a remote catalog.
Your catalog can contain many different files such as text, images, audio, video, zip, xml, pdf...

Changes to catalog are "magically" loaded by all users of your app without the need for any app update!

Tiddlywinks Arena


The classic Tiddlywinks game reinvented on mobile devices.
Join the arena and challenge your friends!

Il classico Gioco delle Pulci reinventato per smartphone e tablet
Entra nell'Arena e sfida i tuoi amici!

On Stage: Action!


Are you looking for an exciting evening with your friends,
an idea for your party?
Is your business dinner boring or your school day endless?
Play at "On Stage: Action!"

Sei in compagnia di amici e vuoi rendere la serata elettrizzante?
Vuoi un'idea per una festa indimenticabile?
La cena di lavoro si trascina noiosa?
La mattina a scuola e' interminabile?
Gioca a "On Stage: Action!"

Compendium of Divination


Compendium of Divination + Compendium of Diviners!
Compendium of Divination contains different techniques of divination: Geomancy, I Ching, Runes, Tarot, Belomancy, Ouija board, Colors and Shapes and other variations.
Compendium of Diviners allows you to assess your skills as a Diviner!

Compendium of Divination racchiude diverse tecniche divinatorie: Geomanzia, I-Ching, Rune, Tarocchi, Belomanzia, Tavoletta Ouija, Forme e Colori e altre varianti.
Compendium of Diviners ti consente di testare le tue abilita' di Divinatore!

Licia Marampon Foches


I dipinti di Licia Marampon Foches. Con ingrandimenti, wallpaper e widget.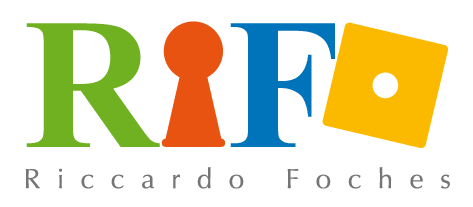 "you don't stop playing games when you get old,
you get old when you stop playing games"